Speaking Themes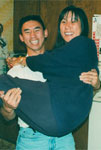 In 2001, Robert's older sister, Marie, passed away from a rare form of cancer. He had spent many months before this life altering experience at her side in her home taking care of the difficult tasks of hospice. Upon her passing in which he was present, he learned the true meanings of the words: energy, commitment, courage, honor, life and death. Through this very touching and personal event, Robert integrates the deeper meanings of these concepts into the world of climbing – and brings out these themes of vision and spirit in his powerful presentations.
The expedition experience focuses on the concepts of perspectives, learning, assuming responsibility, the journey, and the outcome; all elements of climbing - which are clear metaphors on how we live and interact. The expedition experience on a mountain, is a vivid example of the processes in which we operate in our daily lives, whether at our jobs or in our personal lives. The expedition experience shows the importance of how we form perspectives, how we see ourselves in relation to others, and what motivates us to act. The deeper key to his inspiring talks is that Robert now climbs "to benefit others" .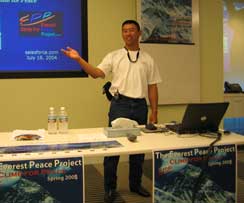 He recently started Climbing For A Cure that promotes a message of hope, inspiration and call to action for individuals and businesses alike. He dedicates his climbing now to raise awareness to nationally recognized cancer organizations such as the Breast Cancer Fund.
The expedition experience is a real-life example of human challenge and our ability to overcome diversity in a difficult environment.
Areas of Focus:
Identifying and Confronting Fear
Recognizing Perspectives
Knowing Roles
Assuming Responsibility
The Value of Life
The Wisdom of Transition
Overcoming Diversity
Perseverance and Reward
Inaction and Motivation
Hope and Inspiration
Team and Community
Acting to Benefit Others
Mentoring for Sustainability
Living with the Outcome
Other more traditional points:
Improvised Planning
Organizational Skills and Planning
Individual and Team Communication, Commitment, Development
Mind/Core Integration
"In watching my sister fight this difficult disease like climbing a mountain, it dawned upon me that if I could continue my life with just one-percent of the energy and courage that she exhibited, I would have the spirit and vision to complete any mountain -- real or metaphysically - for the benefit of others.
"I hope to share this valuable wisdom that is born from my mountain climbing which prepares me for the challenges in my personal and business life." - Robert Chang